Cristal Oscillator
This is a schakeling HF make indicator.
The schakeling uses for this a crystal. The kristaloscillator work rather simple.
The schakeling around T1 and X1 ensures the HF indicator. T2 the indicator reinforces then.
There can be used crystal from 100 kHz to 10 MHz and the feeding tension must lie between 1.5 and 10V.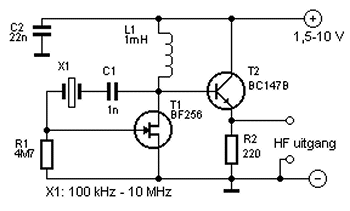 Budget :
This schakeling costs approximately 2,70€.
Component list :
R1 = 4,7 MW
R2 = 220 W
C1 = 1 nF
C2 = 22 nF
T1 = BF 256
T2 = BC 147B
X1 = cristal 100 kHz - 10 MHz
L1 = 1 mH
(Posted Jeroen Vreuls on Thursday 4 April 2002 17.13)

Retour électronique